What can genetics, genomics and data science teach us about the land which sustains us? The ʻĀina-Informatics Network is a new initiative based at ʻIolani School which has been designed to bring genome science into our local high school classrooms. Our program's objective is to develop place-based curricula for genome science that centers on Hawaiʻi's unique relationships to 'āina, all while generating real data via a citizen science approach. This growing network consists of high school science teachers from both public and private schools across Hawaiʻi.
We are currently seeking teachers and classrooms to connect with for the 2019-2020 school year. Please contact us at etong@iolani.org or register your interest via a quick survey here.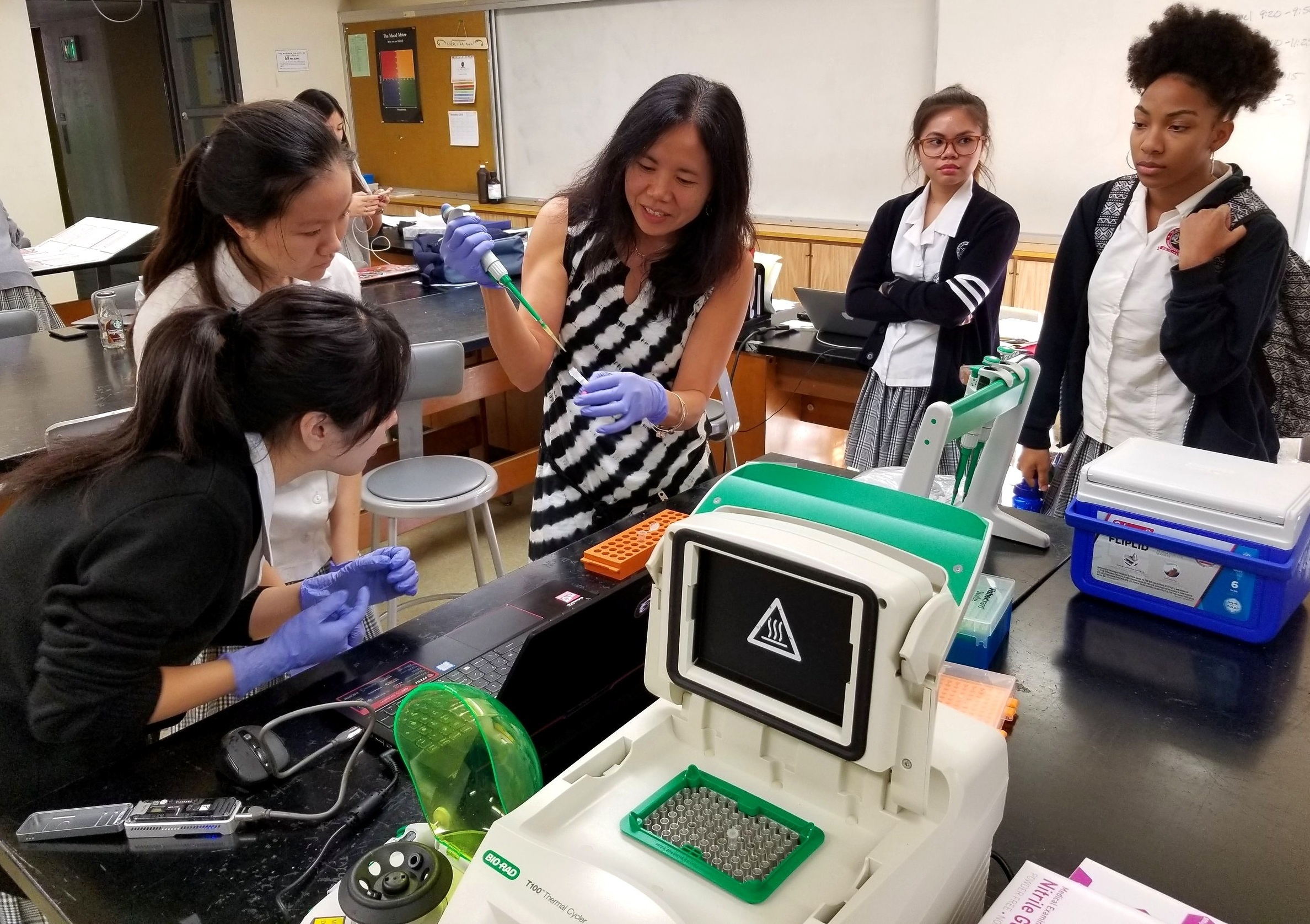 MOBILE sequencing lab
The ʻĀina-Informatics mobile sequencing lab is capable of running DNA extraction, PCR and Nanopore MinION sequencing labs in virtually any classroom. As a network, we are developing labs which employ these technologies to address questions of food security, indigenous practices and local biodiversity through a citizen science approach. Our mobile lab equipment inventory (including reagents) is made available to 'Āina-Informatics Network teachers - this includes micropipettes, a PCR thermal cycler, gel electrophoresis equipment, a blue light transilluminator and more. In addition, we provide the computer, sequencer, flow cells and library preparation kits required to run MinION third-generation sequencing in the classroom.
genome science lessons
All of our 'Āina-Informatics lessons are designed to be accompanied by an optional lab exercise and can be offered in sequence or as standalone modules:
Lesson 1: DNA Basics

Lesson 2: Heredity, Genetics and Macroevolution

Lab 2: Polymerase chain reaction

Lesson 3: Introduction to Genomics

Lab 3: Whole genome sequencing

Lesson 4: Introduction to Bioinformatics

Lab 4: Genome assembly and annotation
See our citizen science section below for more information on available projects.
BIOETHICS
At a time when biotechnology has the capability of altering long-standing relationships between kanaka and 'āina, what are the critical questions that will guide our future scientists towards pono research approaches? Our curriculum simultaneously addresses these important questions as we help students to unravel the mechanics of genome sequencing, genetic modification and gene editing.
Topics we cover include general research ethics, environmental impacts of biotechnology, cultural and Indigenous rights-based considerations in genome science, as well as ethics in the age of CRISPR gene-editing.
'Āina-informatics Citizen Science Projects
Click on the images below to read more on each project. This section is under construction and will be updated soon. Please inquire at etong@iolani.org for more information.
Follow us on Instagram (@aina_informatics) for the latest on our citizen science projects, our #AINmobilelab, #teachertips, and other announcements.